1flight / ¥12,000
After registration on school house, Let's go Launch!! On launch we explain how to fly. And then take off with pro tandem pilot. Enjoy the view and Feel the wind!!
Schedule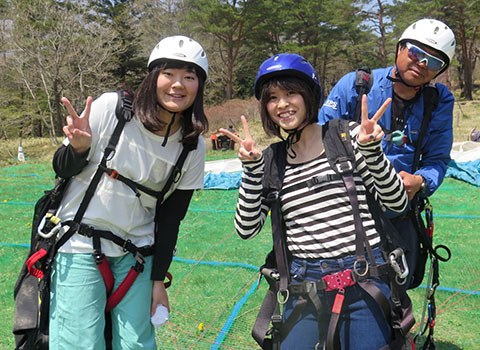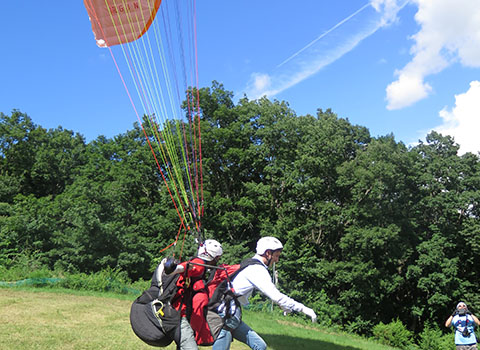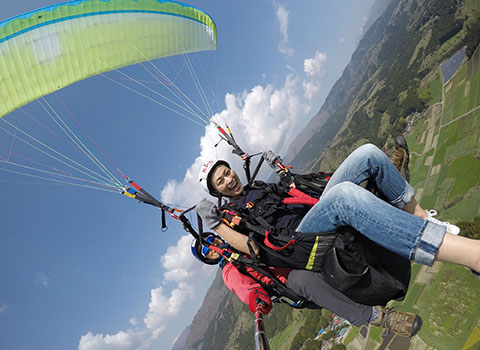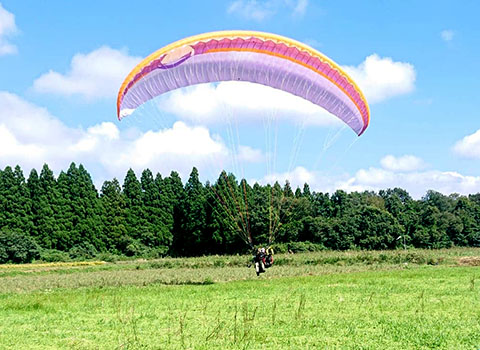 Note
Flight site is Snipe Nasu (drive 20-30min from Nasu Family Ski Resort). Please Snipe Nasu by yourself.
We fly one by one. If weather is not good, you wait a long time. Time schedule is depending on weather.
You can bring your camera and smartphone, But it is your responsibility.
car : Urawa → Tohoku highway 1.5h → Kuroiso IC
train : Tokyo → Tohoku Shinkansen 1.15h → Nasushiobara

rom Nasushiobara station to Snipe Nasu we have no shuttle. Please ask to us , If you will come by the train.
KPS Paraglider School
Reservation
Please reserve your flight before you come. You can contact to us by
phone
,
Email
or message from
FACEBOOK
. We reply to Email or message ASAP.
If we have already full reservation, we can't take reservation for you.
Please pay by cash (Japanese yen). We don't accept credit card.
Preparation
Please bring by yourself ↓
long sleeve shirts, long pants, shoes (you have to run on grass field), glove and travel insurance card.
We have some wear and shoes for rental.
Attention
If weather is not fit for our flight site, we will change the flight place.
If weather is impossible to flight, we cancel to your reservation.
normally 1 tandem flight finish by 1 hours. depend on weather…
you should fly by your responsibility. you have to understand any risk of flight.
We show "photos and movie during the flight" to our web page and SNS.
you can bring your smart phone, camera…, But your responsibility. We don't take care for your smartphone, camera, wallet…anything.
If you have over 90kg, please ask to us. Also you have some handicap, also please ask to us.
cancellation fees:
If you have no contact to us by phone on the day:100%
If you change numbers of reservation on the day:100%
Please pay by cash(Japanese yen). We don't accept credit card.
Please show your travel insurance card to us on registration.
Open hours
We open from March to December. On January and February, we open at Tsukuba flight site. If you want to fly on winter, please ask to us about more information.